By attracting global businesses and high-quality jobs, Atom Valley will be a catalyst for transport investment throughout Bury, Oldham, Rochdale, and Greater Manchester.
Boosted by new devolution powers, bus services are already in the process of being transformed, while ambitious plans for active travel routes continue to be rolled out, and a whole host of rail and Metrolink expansions are ongoing. Major motorway and highway upgrades are also in the pipeline, which will be delivered in a manner that supports Greater Manchester's decarbonisation plans. This will connect businesses, careers and homes while helping to rebalance and reinvent the regional economy. It will also provide fast, affordable and sustainable ways to travel, bringing communities across the city closer together.
Why is an integrated transport network important?
Much of Greater Manchester already boasts high-level connectivity and infrastructure, with its airport, rail system and road network all providing a gateway to markets, partnerships and institutions. But for some areas, transport is still a stumbling block to opportunities and productivity. By developing new networks and further strengthening existing ones, both residents and business can realise the benefits of Atom Valley and take advantage of the opportunities created within the Mayoral Development Zone, as well as the entire city region.
"Poor urban transport limits people's job opportunities and effectively makes our largest cities much smaller than European competitors. This negatively impacts the productivity and economic performance of big cities, costing the UK economy more than £23.1 billion per year."
Measuring up: Comparing public transport in the UK and Europe's biggest cities
Alongside Greater Manchester's £1 billion City Region Sustainable Transport Settlements and TfGM's 2040 Transport Strategy, plans for Atom Valley are crucial to truly levelling-up and addressing the imbalance faced not just nationally, but also regionally. As well as 20,000 new jobs and a renewed focus on skills and academic partnerships, a fully integrated transport system will power prosperity and sustainability across the UK's second largest city region. It will help achieve a vision for world-class connections that support long-term sustainable economic growth and access to opportunity for all.
Road links to benefit people and business
Strategically situated along the M62 corridor, Atom Valley is at the intersection of the North's arterial motorway network, connecting Leeds, Huddersfield and West Yorkshire with Greater Manchester, Liverpool and beyond. Serving as Manchester's outer ring road, the M60 joins up the entire city region, while the M66 runs northwards to Blackburn and Burnley. As a result, our roads handle a considerable commuter and haulage traffic every day, and so the need for effective and progressive traffic management is essential.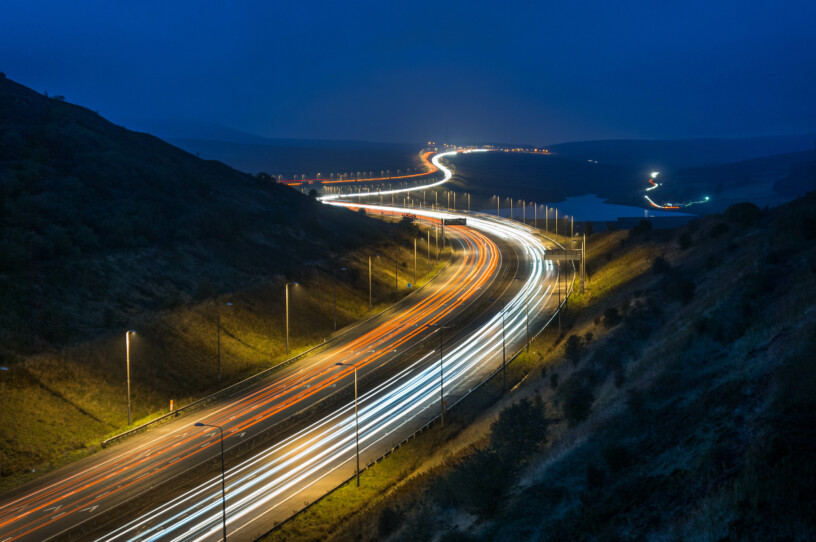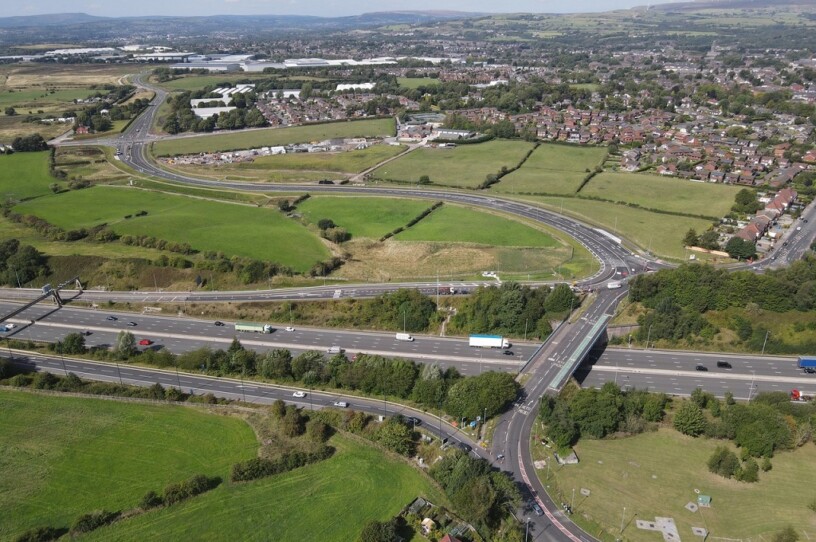 Improvements to Simister Island, as well as J2 and J3 of the M66 will ease congestion, together with additional capacity once changes to J19, M62 and J19, M60 have been made. In partnership with National Highways, this infrastructure will be developed over the next five to ten years.
As well as major road changes, a business case is being made for a new Northern Gateway Distributor Road. This would complement the newly opened South Heywood Link Road that connects HGV and commuter traffic from the South Heywood employment area to J19 of the M62. Costing £20m, this dedicated route cuts 17km from the previous return journey, directing vehicles away from Heywood town centre, Birch and other local roads.
A strategy for integration
While the road network will continue to play an important role in moving materials, goods and products, we need to invest in more sustainable ways to travel. Whether it be within Atom Valley sites, across our communities and neighbouring boroughs, or further afield to the rest of the UK, integrated transport is essential to a cleaner, greener and more efficient future.
Greater Manchester's Bee Network highlights the bold vision for a joined-up London-style system, which brings together rail, trams, buses as well as cycling and walking. As part of this, buses will begin to be integrated from 2023, followed by trams from 2024 and commuter trains by 2030. With local control and accountability at its heart, this will transform how people travel in and around Greater Manchester, delivering a simple, accessible and easy to use experience for everyone. It will also help deliver ambitions for the city to be carbon neutral by 2038.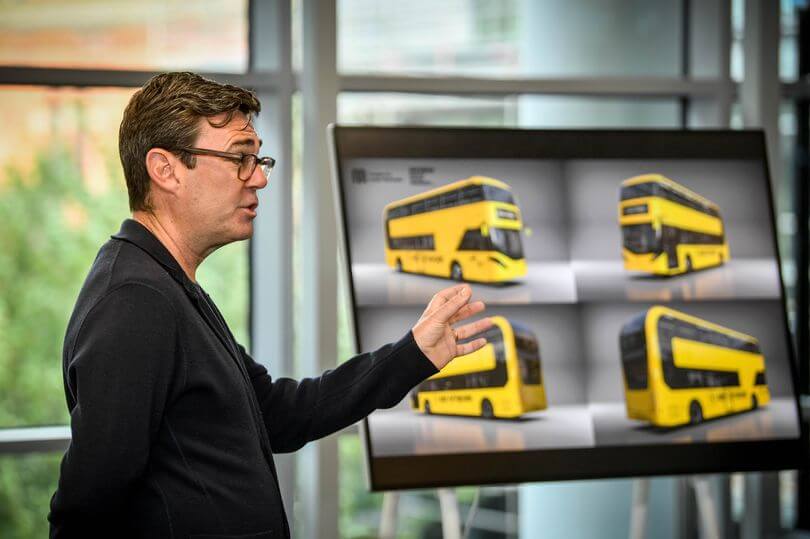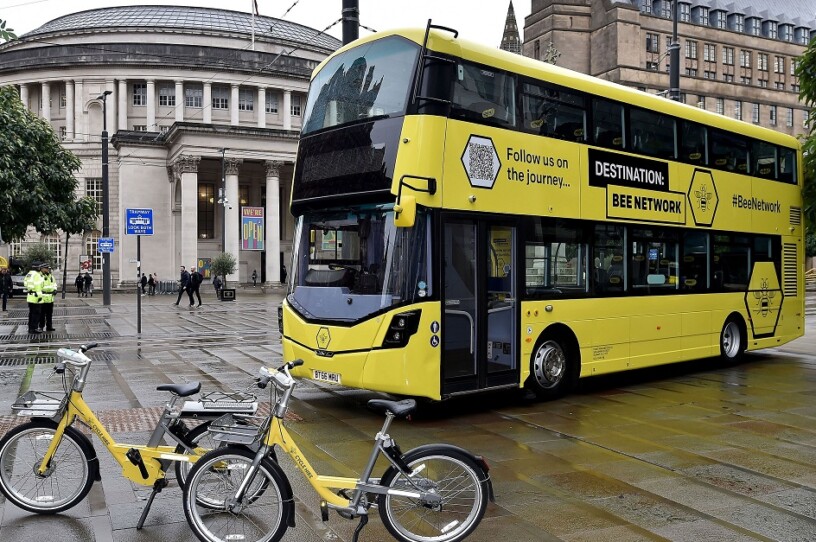 For the northern part of Greater Manchester, this means significant improvements. Bury Interchange will see one of the first major redevelopments, with plans to overhaul the Metrolink platform and provide simple integration with new bus and active travel facilities. As a key component in Bury's Town Centre Masterplan, the interchange – the first in Greater Manchester to be carbon neutral – will accommodate future growth in public transport and act as a spark for regeneration in the area.
Coinciding with this, the Pathfinder project will create a tram-train link to connect Oldham, Rochdale, Heywood and Bury, as well as Atom Valley sites at Kingsway Business Park and the Northern Gateway. The development of new stations will also benefit the wider area, with the proposed Middleton Metrolink extending the Trafford Park line and including a new stop at Slattocks which will serve Stakehill Business Park and Hopwood Hall College.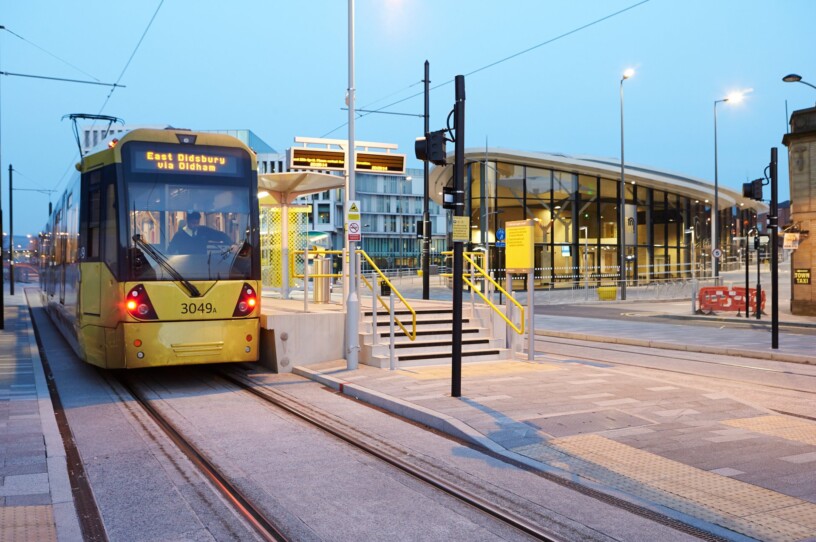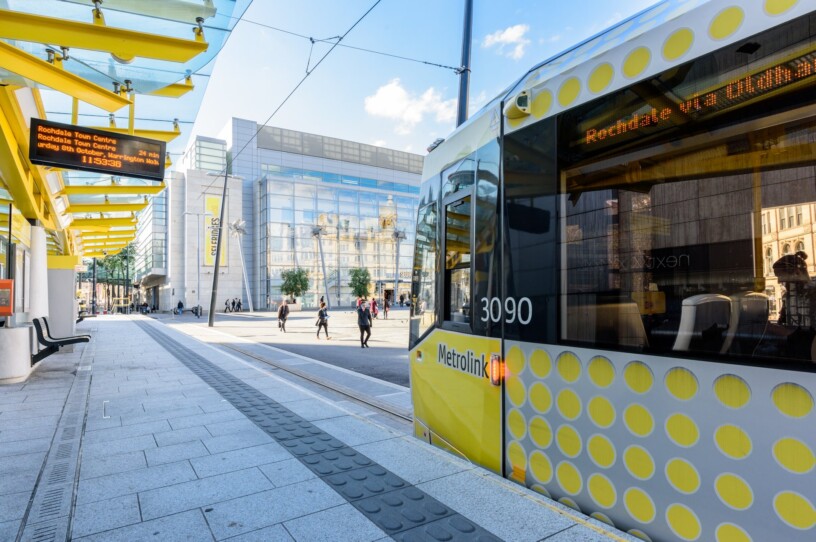 To aid integrated modes of transport, there will also be a redesign of highway measures to the south of Bury town centre in an attempt to improve bus priority, as well as pedestrian and cycle connectivity across the A58 and to the new interchange. Whether by foot, bike, bus, tram or a combination of all four, these changes will help people connect their journeys.
In Rochdale, rail connectivity has long been identified as key to the next major regeneration opportunity. The council's rail corridor strategy builds on passenger growth and its location in relation to central Manchester as well as the Pennines. With demand for new homes and business space on the rise, the strategy places railway stations as a focus for communities. These plans are already well on track, with capacity identified for around 7,000 new homes, alongside a number of employment and leisure opportunities, walking and cycling routes, and new public spaces.
Getting the region moving
Also now in the hands of regional decision makers and local authorities is the role of buses. Routes, fares and services are all on the table, as Greater Manchester benefits from one of the UK's deepest devolution deals. For the first time in nearly four decades, bus passengers will be involved in holding local bus operators to account over how they perform, with customer complaints one of several measures to influence operator payments.
A key aim will be connecting residential areas with schools, colleges and places of employment. And where in the past, this has been focused on the city centre and areas such as Media City, Trafford Park and Manchester Airport, Atom Valley provides a new opportunity to serve a major employment growth location in the north of the region.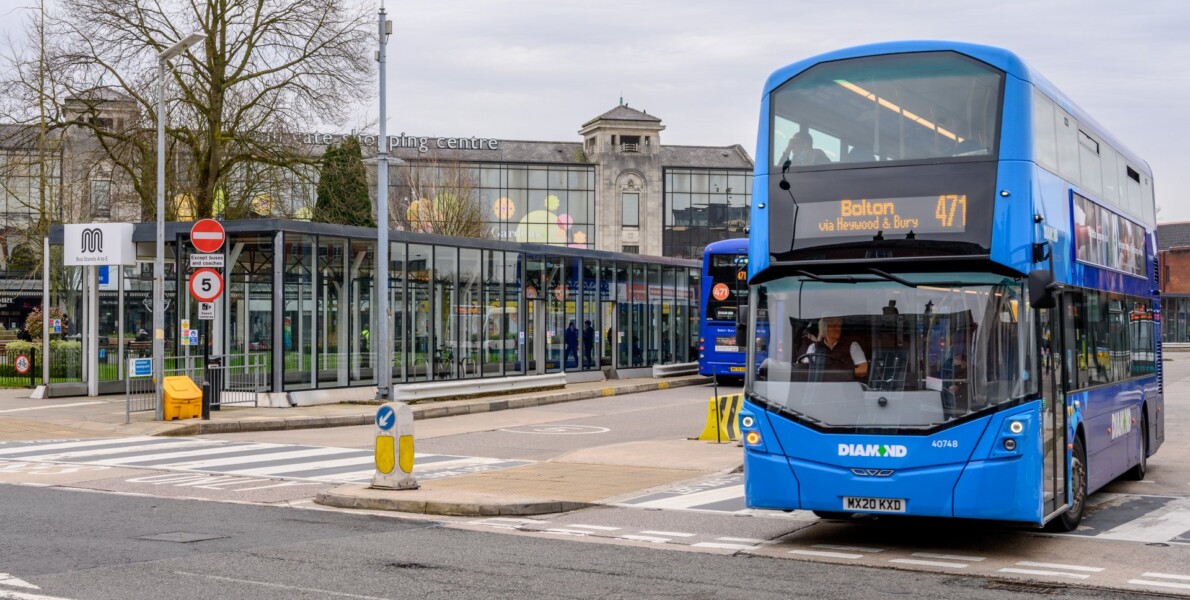 The biggest improvements will be seen between Bury, Oldham and Rochdale, where bus corridors will offer rapid transit and quicker connectivity. Similarly, a new priority corridor linking Victoria North and Heywood is set to be developed in early 2024. This will make journeys faster and more reliable between Manchester city centre and the Atom Valley region.
There will also be an emphasis on active travel options such as cycling and walking. Joining these up with bus and rail links forms a vital part of the Bee Network and Greater Manchester's vision for a fully integrated, carbon-friendly transport system. A range of schemes will be delivered across the city, creating the UK's largest cycling and walking network. By making it easy, safe and attractive to travel on foot or by bike for everyday trips, people will be encouraged to shift towards active and public transport options. Amongst these proposals, streets in Oldham town centre will be redesigned to improve pedestrian and cycling facilities, with similar plans to enhance accessibility in Heywood and Middleton. Guided by healthier and more sustainable travel choices, the strategy aims to ultimately connect every area and community in Greater Manchester.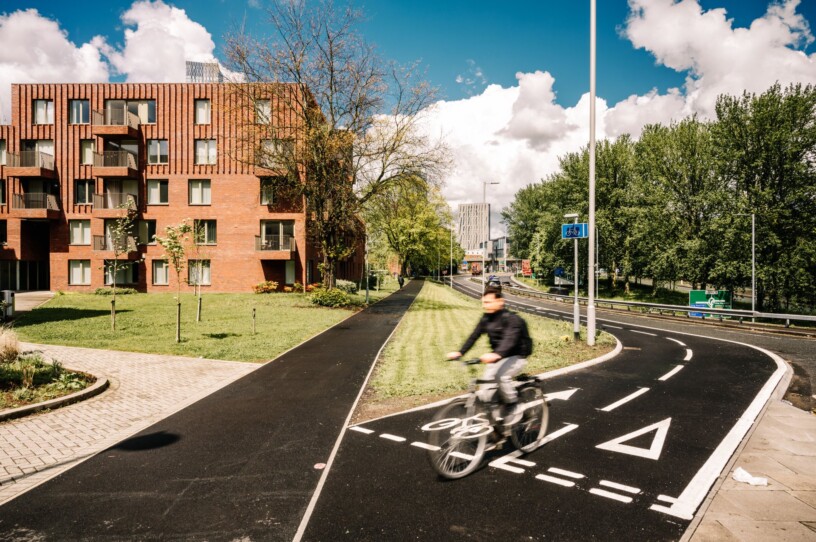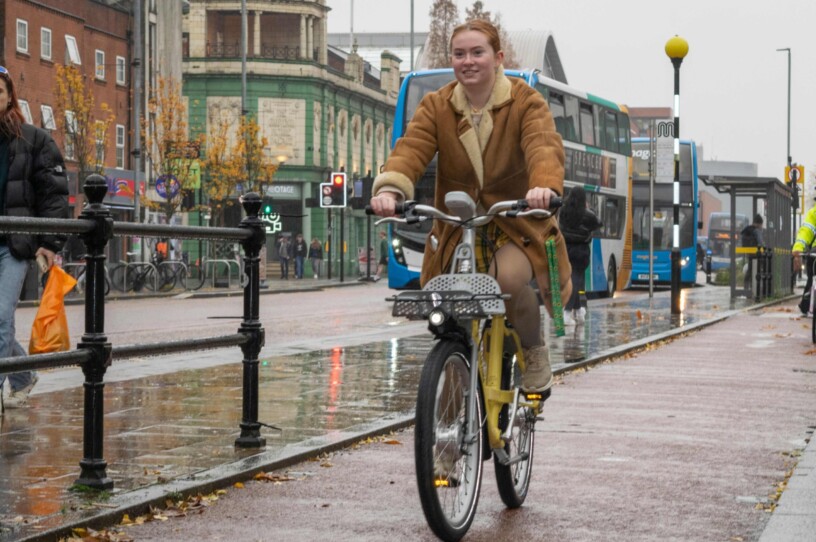 Making a better tomorrow
Transport is crucial in supporting the region's ambitious plans, including those outlined in the Greater Manchester Strategy with a pledge 'to make Greater Manchester one of the best places in the world to grow up, get on and grow old'.
As well as planning and groundwork gathering pace, a number of initiatives have already been introduced to help increase accessibility, affordability and simplicity of travel. Single tickets for bus journeys that start and end within Greater Manchester have been capped at £2 for adults and £1 for children, with similar value fares for unlimited daily and weekly travel. These measures were brought in a year early to support people with the increased cost of living, and before government plans to introduce caps nationally. For 16-18 year olds, Our Pass offers free travel on most local bus services across Greater Manchester, making moving between home, education and places of work much easier. But as well as that, it also unlocks the region's culture and leisure offerings for young people, in addition to exclusive offers and discounts.
Informing this overall strategy is Greater Manchester's long-term environmental ambition for carbon neutrality by 2038, with the impact of transport playing a vital role. At every stage of transport improvements, decision making takes into consideration the actions needed to protect people's health, reduce air pollution and tackle the climate emergency.
By developing a fully integrated, multimodal transport system that's fit for the future, Atom Valley and Greater Manchester is making a better tomorrow for visitors, residents and businesses alike. This is truly a once in a lifetime opportunity to supercharge the region and its infrastructure by attracting world-class businesses and high-quality jobs.
Ultimately, this will improve the quality of life for all and allow people to take advantage of the opportunities created on their doorstep, as well as across the entire city region.
Keep an eye on the blog for more updates or head to connectivity and transport for more information.