Thousands of new homes set in a revamped town centre are coming to Oldham - thanks to a new partnership formed with a born and bred Oldhamer. Multi award-winning nationwide placemaker Muse, headed up by Phil Mayall from Oldham has been selected as Oldham Council's development partner for the multi-million pound town centre scheme; creating new homes, new jobs and attractive new green public spaces for Oldhamers to enjoy.
The partnership with Muse will see around 2,000 new homes, of all types and sizes, built on pieces of land including the Civic Centre and former leisure centre sites, with a new town centre park at the heart of the new communities. Muse's previous projects include the hugely successful Stockport Exchange, Salford Central and Lewisham Gateway schemes, which have breathed new life back into town centres and transformed them into attractive places where more people want to live and work.
This new partnership with Muse is the largest and most significant piece in the jigsaw of the ongoing transformation of Oldham town centre, which already includes the all-new Spindles shopping centre and offices; a new home for Tommyfield market, a new theatre, new space for businesses, and and a restored Old Library with cultural, civic and community spaces.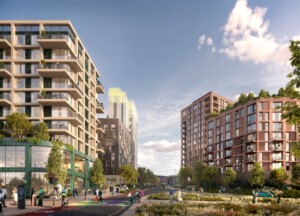 Councillor Arooj Shah, Leader of Oldham Council, said: "This is absolutely fantastic news. I'm delighted that, today, we can announce that together, we and Muse will be creating a new town centre for not just the people who live here now, but for generations to come.
"These new homes will create new communities right in the heart of Oldham; which is a brilliant opportunity not just for the Oldhamers who will get the chance to live there, but also for people across the borough who can enjoy greener, more attractive, and more enjoyable places to shop, eat, drink and spend their leisure time.
"I know today's announcement will also be welcomed by our fantastic local businesses, who will soon be seeing more and more people spending time in our town centre throughout the day and into the evenings, as new communities move in, settle, and raise their families.
"I'm so pleased to be leading on these exciting, ambitious, and truly game-changing plans – and I'm also truly excited that we've secured a partner from Oldham, who knows Oldham so well, and is just as passionate as me to make our borough a better place for all of us who call Oldham home."
Muse were selected to deliver the scheme, after a lengthy and in-depth procurement process, as they combine local knowledge with the capabilities of a hugely successful nationwide organisation. They have the strongest of track records, after transforming places and improving communities up and down the country.
Having a development partner for this major scheme also means that the Council can draw on the highest levels of knowledge and expertise for such a crucial programme of work – compared to going it alone.
Phil Mayall, Managing Director – North West at Muse, said: "We're proud to have been selected by the council to deliver its ambitious vision for regeneration in the town and we're excited to get started.
"As a business, we're all about placemaking. We create kinder places in our towns and cities that focus on quality, community and sustainability. It's regeneration with people at its heart; that will celebrate the proud town of Oldham, its rich heritage, along with its aspirations for the future.
"We're at the start of our journey with the council and we're very much looking forward to getting out in the community as soon as we're able, as we build a brighter future for Oldham, together."
This new partnership with Muse could last for up to 25 years, and will mean that so-called "brownfield", or previously-developed sites, in the town centre are built on rather than green space.
The new homes being created will include a variety of housing types, suitable for people at all stages of their lives, and helping to meet the housing need of the borough. A new town centre park, meanwhile, will provide green space right in the heart of these new communities, to be enjoyed by shoppers, workers and residents alike.
For more information on the town centre projects currently underway, visit the website here